I am so very stoked Colt even made the NA Crush Tourney and I'm so nervous on his first round! Today, Thursday June 27th Colt goes up against Hunter. This is going to be a tough round but I have faith we can do it!!!
Let's get this out of the way first... If Colt wins, I will release an exclusive Colt POV scene. I will let everyone vote on what scene they would like most. Also, over at his advocate's blog,
Fictionators
, I'm giving away a signed copy of CHARADE and swag for Team Colt members (and another excerpt)!
I am on vacation with my family and will be driving them crazy with my obsessiveness on checking my phone. LOL. What's girl to do, though? It's the NA Crush Tourney! It doesn't get much more exciting than that.
If you loved Colt, we would love your help. Please
VOTE
. You can do so
HERE
. Also Tweet for Team Colt. Use #NACrushTourney and #TeamColt. Facebook, blog, however you'd like to help get the word out for our bad-mouthed guy, I really appreciate it!
And for fun. Here's some fun Colt stuff!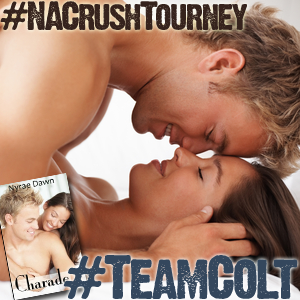 And some favorite Colt quotes:
"I'm a prick half the time, but you make me better. You make me happy. I don't want to lose you. I love you."
"Just so you know that you can. I won't tell. I might not be able to do much for you, but I'll hold your secrets."
"You don't have to do it on your own. Let me take some of the weight, baby."
"The cup is half full, sunshine and flowers and I act like I agree, but really I'm pissed someone dumped out half of my drink."
"I'm tired of running... This is the only thing that's real. Don't run from me, Tiny Dancer."
And here is a favorite about Colt...
"But when he smiles? Really, smiles, it's perfect. Like toothpaste commercial, boy-next-door beauty that makes it really hard to be pissed at him."
Thanks so much!!